Huge congrats to Jack Church '21 on being named
Head Monitor for the 2020-2021 school year! A leader in all areas of school life, Jack will serve with authenticity, humility, compassion and consistency!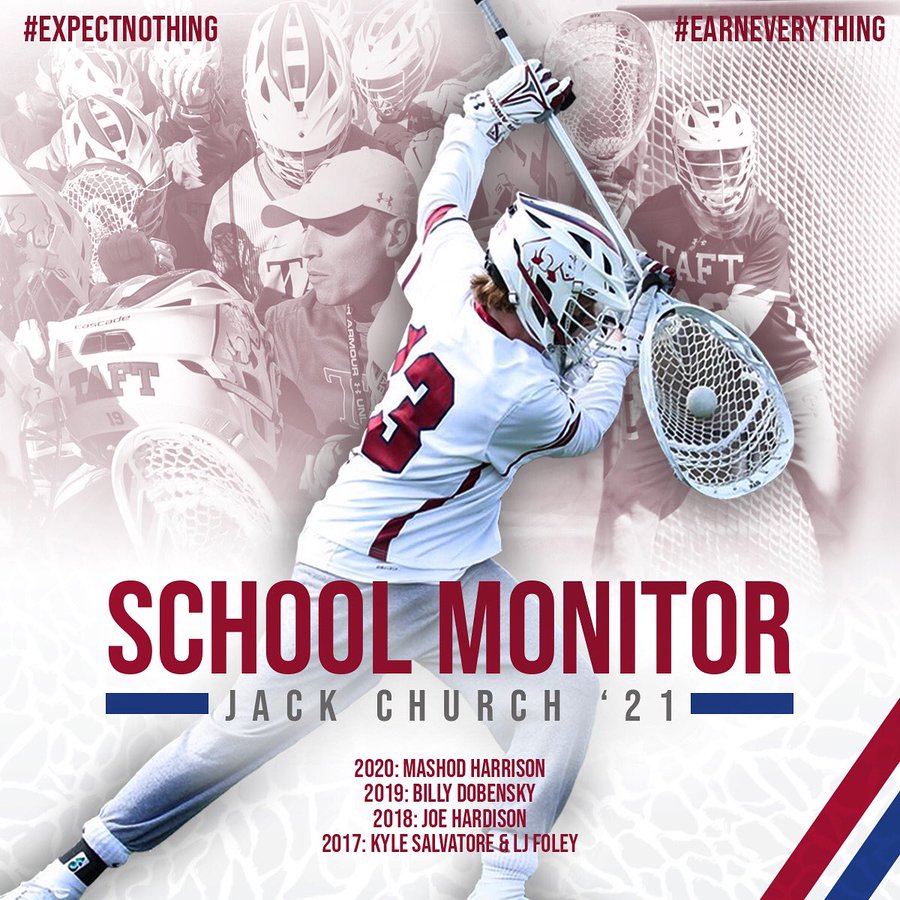 Huge Congrats to Will Rizzo for being names the 2020 - 2021 Prefect @Westminster School
A number of former Doc's players are now seeing success at the college level, and while we're thrilled that they are playing lacrosse, we're even more excited about the educational experiences these young men and women are enjoying!
Jake Schneider, a former Doc's player who played his high school lacrosse at Fieldston, is starting on Middlebury's attack line. Midd is a Top 20 D3 team in 2017, and a fantastic school. Keep it up, Jake!

Jeffers Guthrie, a current college Freshman, formerly of the Hunter College HS (PSAL team), has made the Princeton D1 varsity team as a walk-on, following in the Ivy walk-on footsteps of former Doc's player, Jack Berney, at Yale now in his 4th year on the team.

Griffin Spolansky (played his HS lacrosse at Lawrenceville), as a sophomore, has walked onto the UVA team as an LSM. Beyond impressive and UVA is looking strong!

Nigel Andrews (Deerfield) scored two goals in his freshman year debut at Harvard against Holy Cross and is making an instant impact for the Crimson.

Patrick Coughlin, now a sophomore D/LSM at Kenyon, picked up 6 ground balls to help lead Kenyon to a win in their opening game of the season.

Dylan Moser (Westminster) is a sophomore goalie up at Wesleyan, a Top 20 D3 program playing in the ultra-competitive NESCAC.
Congrats to all, and keep up the great work on the field, and even more importantly, in the classroom!
------------------------------------------------------------
Congratulations to Britt Brown for earning the starting spot for the women's D1 team at UPenn! The photo below is from a win over Delaware. Congrats to Britt, keep up the great work on the field, and in the classroom. A TRUE student-athlete if there ever was one! We are VERY proud of you, Brittany!
------------------------------------------------------------
Another big shout out goes to Jack Berney, currently is in his 4th year on the Yale Lax team as a backup goalie (originally making the team as a walk on no less!). During his time on the team, Yale has won 2 ivy league championships, 2 NCAA playoff births, and was even Ranked #1 for several weeks last season. Preseason this year they are ranked #7, and looking to climb. Jack played Doc's since the 2nd grade and is a shining example of what hard work, determination, and an amazing team first attitude can do!
------------------------------------------------------------
Congratulations go to a couple of recent HS graduates from Doc's NYC! Arden Cohen is currently at the Gunnery School (CT) and played Doc's 5th-8th grade. Now he's headed to play D1 lacrosse at Notre Dame, in South Bend, IN! That's a big time leap on the field, we're impressed Arden!
We also want to congratulate Logan Geller on his acceptance to Wesleyan! Logan is currently a Senior at Columbia Prep in NYC and started playing lacrosse with Doc's as a 7th grader and worked his butt off to get better. Now he's headed to a top level NESCAC!
Good luck to both young men next year at their respective schools!
------------------------------------------------------------
A big congrats goes out to Uno Wait, a former Doc's player, on his acceptance to Cornell University, where Uno will play D1 lacrosse. Uno has spoken to younger Doc's players on what it takes to play lacrosse in college, and continues his family's tradition of giving back to the game while heading off to play in the Ivy League. Another big shoutout goes to Logan Geller, who will be playing varsity college lacrosse for Wesleyan University in CT. Logan didn't start playing lacrosse until 7th grade, and he's a great example of what hard work, dedication, and the right attitude can do. Represent us well in the NESCAC, and good luck! Finally, a HUGE congrats goes to one of our women's coaches, Kaitlyn Billups, on making the Irish National Team! Way to go Kaitlyn, and we wish you the absolute best of luck this Summer at the FIL Rathbones World Championships with the Irish!
------------------------------------------------------------
Congrats to Rob Pannell and Max Seibald on being recognized by the Cornell community (via the Cornell Sun) for their continued efforts to "Grow the Game" of lacrosse. You can read more about this dynamic duo, and their involvement with NYC's CityLax, HERE.
------------------------------------------------------------
Congrats are due to Nigel Andrews, Noah Knopf and Isabella Di Pietro! All three are attending Harvard this fall as members of the class of 2020, and all three are playing D1 lacrosse for the school's teams. Good luck to all three former Doc's NYC Lacrosse players in the classroom, and, of course, on the field!
------------------------------------------------------------
Congrats to Britt Brown on earning Honorable Mention ALL-IVY LEAGUE honors for 2016! Britt won the starting goalie position for the UPenn Women's Lacrosse team this year, and Britt is a former Doc's player and Berskshire School alum.
Great stuff, Britt Brown!!!!!
------------------------------------------------------------
The 46-man roster has been announced for the Israel U19 Men's National Team, and two former Doc's NYC players have made the cut!
Noah Knopf, who is headed to Harvard next year, and Sam Dubner, a Junior at the Trinity School, were both selected to the 46-man squad. We wish both young men the best of luck as they try to make it through the next round of cuts! Thanks to many former Doc's coaches like Brad Settleman, Bill Cronin, and Jimmy Gabal for working with these young men during their early years!
Westminster recently took down Deerfield for their first win over DA in a LONG time and Dylan Moser made 14 big saves in net to help Westie get the win. Dylan is a Doc's Alum headed to Wesleyan next year. His father, John, is the CEO of CityLax, Inc.
The game also featured a couple other Doc's alums in Nigel Andrews, and Uno Wait, both of whom have committed to Ivy League Schools in Harvard and Cornell, respectively!
Below, you can see Deerfield's Nigel Andrews shooting on Westminster's Dylan Moser:
Congrats to all three young men on getting into such great universities, and good luck in the classroom and out on the athletic fields!