Spring 2020 Season Concessions


Hours
Sat 2/29 through Sat 3/14
Mon 3/16 through Sat 5/9
Mon - Thurs - 6pm to 8pm
Saturday - 8am to 8pm
A quote from a parent who recently worked:

"THANK YOU for all you do every year with the concession stand. Seriously, it's definitely just taken for granted by many. Or some may just not realize that the whole operation is run by VOLUNTEERS. SO THANK YOU. The boys and I had a GREAT time and they were a wonderful help!"
How to sign up for the Concession Stand
You can now sign up for the concession stand by clicking on the button below: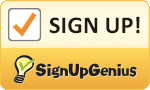 The concession stand is solely run and operated by parent volunteers. All of the proceeds from the concession stand help underwrite improvements to our facilities. It's easy and fun! There MUST be 2 adults per shift. The SAME 2 adults must work the entire shift. If you find that you are unable to complete your shift, it is your responsibility to find someone to replace you.