Coach Josh Johnson-HRCBL Knights
Josh Johnson is in his fifth season as an assistant coach at The College of Saint Rose, where he finished his collegiate playing career. Johnson spent two campaigns in a Golden Knights uniform after transferring from Hudson Valley Community College, where he was their closer. Johnson is responsible for developing pitchers, the defensive skills of all position players, and strength and conditioning of all players. In addition, Johnson serves as the first base coach for the Golden Knights. During Johnson's coaching career, he spent two summers as an assistant coach with the Perfect Game Collegiate Baseball League's Albany Dutchmen, where he served as pitching coach and first base coach. Johnson served as the head coach of the Rail Cats in the ICBL in 2016 & 2017 where he led his squad to back to back championship appearances, winning it all in 2017. Furthermore, Johnson has coached 14 players who have since signed professional contracts. In 2018 Coach Johnson guided the Knights to becoming the HRCBL's Inaugural Championship team.
The former team captain finished ninth in the Northeast-10 Conference with 19 appearances in 2014 after recording 42 strikeouts and leading the team in innings pitched as a junior in 2013. Johnson also played in the prestigious Coastal Plain league where he led the league in appearances. Johnson was an All-League, All City and All-Area at Tamarac High School in nearby Troy where he also played golf and basketball in addition to baseball.
Coach Ed DuPont-HRCBL Storm
Ed DuPont is entering his 20th season as a Head Coach. Ed started coaching in the New Windsor Little League to begin his coaching career. Along the way he coached in the Kingston NY Little League and the Catskill NY Little League coaching players of all ages. He guided the 33 team league in Catskill as their President for four years. The league had a Junior and Senior team in the final four in consecutive years. For six seasons Coach DuPont coached Elite Division Level of travel Youth Baseball, starting with the Coxsackie Owlz and most recently with the Capital District Storm Elite Program. Ed coached collegiately in the Thruway Collegiate Baseball League, Interstate Collegiate Baseball League and Hudson River Collegiate League. In 2017 his Storm team won the Hudson Division and had an impressive 11 game winning streak. The Storm had the lowest team ERA at 4.21 in the league in 2017 with the pitchers being second in the league in strikeouts with 161. The team also had the best defense posting a .986 average. In 2018 Coach DuPont led the Storm to the Championship Series. Along the way the Storm had a 10 game winning streak. 2019 the Storm won the division and the HRCBL Championship Series vs the Rattlers. The team finished the season with a 20-8 record.
Coach Joe Sportman-HRCBL Rattlers
Joe Sportman is in his second season as an assistant coach at The College of Saint Rose. Sportman is responsible for developing outfielders and their defensive skills. Also is the assistant hitting coach, working closely with players to better develop their swing mechanics, and overall team hitting approach. Sportman started the first two years of his college playing career at Schenectady County Community College, under the great Tim Andi. Sportman finished his final two years at Utica College, seeing playing time as both an outfielder and second baseman. During Sportman's coaching career, he spent two seasons at Colonie High School as the assistant coach for the varsity team. Also spent two summers as a head coach with a local high school travel team, Frozen Ropes Outlaws. During the two summer seasons his team eclipsed an over all record of 44-9, including a runner up finish at the Don Mattingly World Series in Surprise, Arizona.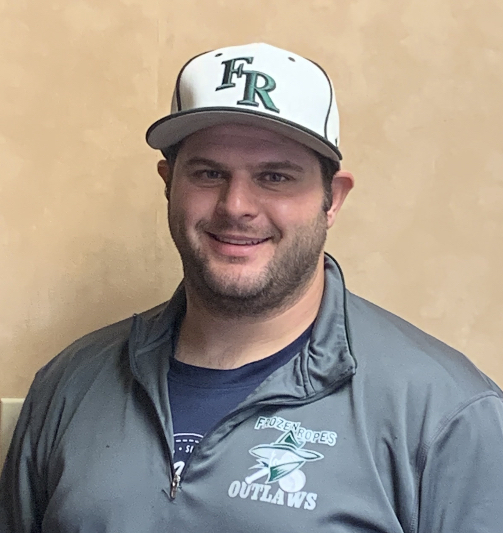 Coach Steve DeLuca-HRCBL Bucks
Steve DeLuca has played baseball at every competitive level, from high school to IndependentProfessional Baseball. He played his junior and senior years of college ball at New England College (2014-2015), where he batted .324 and lead the Pilgrims from behind the plate. DeLuca is now entering his second summer season coaching and fifth off season working one-on-one with players offensively and defensively at Frozen Ropes Albany. During the 2019 season DeLuca coached the Frozen Ropes Outlaws' 17/18U team to a 21-5 tournament record.
Coach Joe Braim-HRCBL Mud Cats
Coach Joe Braim's love of the game started when he was a small child now more than 16 years later he is choosing to pursue his passion of becoming a coach. This will be Braim's second year as a head coach.
Playing four years at Southern Vermont College he was a captain and dominating pitcher. He started as a dual position player who transitioned into a pitcher only. Braim's work ethic propelled him to become the programs ace pitcher. In his time at SVC he ranks in the top three in 5 of the program records. He has played with top baseball prospects that have turned professional while at the Ripken Collegiate league in Myrtle Beach, SC.. Braim was selected as an intern for SVC and was responsible for the recruiting of new players. Joe went to showcases to evaluate player talent and skill levels. He began to build a network of great players and establish relationships with several coaches in the northeast.
Coach Braim played one summer in the Thruway Collegiate Baseball League for the River Bandits, one summer in Myrtle Beach Collegiate Baseball League for the Ocho's, and one year in the Hudson River Collegiate Baseball League with the Knights. He has participated in showcases that include Diamond Nation and Under Armour Baseball Factory. Coach Braim specializes in pitching and infield techniques. He worked alongside player trainer and scout Jon Stewart of the LA Dodgers for 3 years. Among Coach Braim's accomplishments he has been named NECC Pitcher of the week 2 weeks in a row in 2016 and through his first 300 batters faced at SVC he only allowed 27extra base hits. In 2019 Coach Braim guided the HRCBL Rattlers to the Championship series in his first season as a head coach.
Coach Bobby Krogh-HRCBL Orioles
Long time resident and coach residing out of South Troy. Bobby is a graduate of Troy high School. Coach Krogh spent his youth playing for the South Troy Dodger Organization under legendary coach George Rodgers. Playing alongside future big-leaguers Tim Stauffer and Casper Wells. In 2000, Bobby helped lead his Dodger Team to their 1st ever appearance in the Connie Mack World Series. In the series, Krogh batted .550 earning him a spot on the all-Tournament Team. He also set the record for the only player to hit for the cycle in World Series History. As a High-Schooler at Troy, Bobby spent the better half of 4 seasons with the Varsity squad, earning All-Area Selections 3 times, and All-State Honors Twice. Bobby also holds the Section 2 Record for Strikeouts in a game with 19. After a very successful High-School Career, Krogh took his talents to nearby Hudson Valley Community College, to play under Coach Tom Reinisch. In his two years Bobby Led the Vikings to back to back region 3 Championship Games. Advancing to the World Series in his freshman campaign. During that time, Coach Krogh earned MVP, Region 3, and All conference Honors, both on the mound and at the plate. After a career ending injury shortly after, Bobby dived right into coaching. For the past 15 years, Krogh has helped teams from the Little League Level, to the College Level and the Cape Cod Baseball League. Bobby now spends his time training players, coaching his team the (Upstate Orioles), and helping kids reach their goals of playing college and professional baseball. Bobby is currently an Asst Scout with the MLB Texas Rangers.